Combo Soraka League of Legends
Combo Soraka League of Legends
Di seguito illustrata la Combo Soraka League of Legends.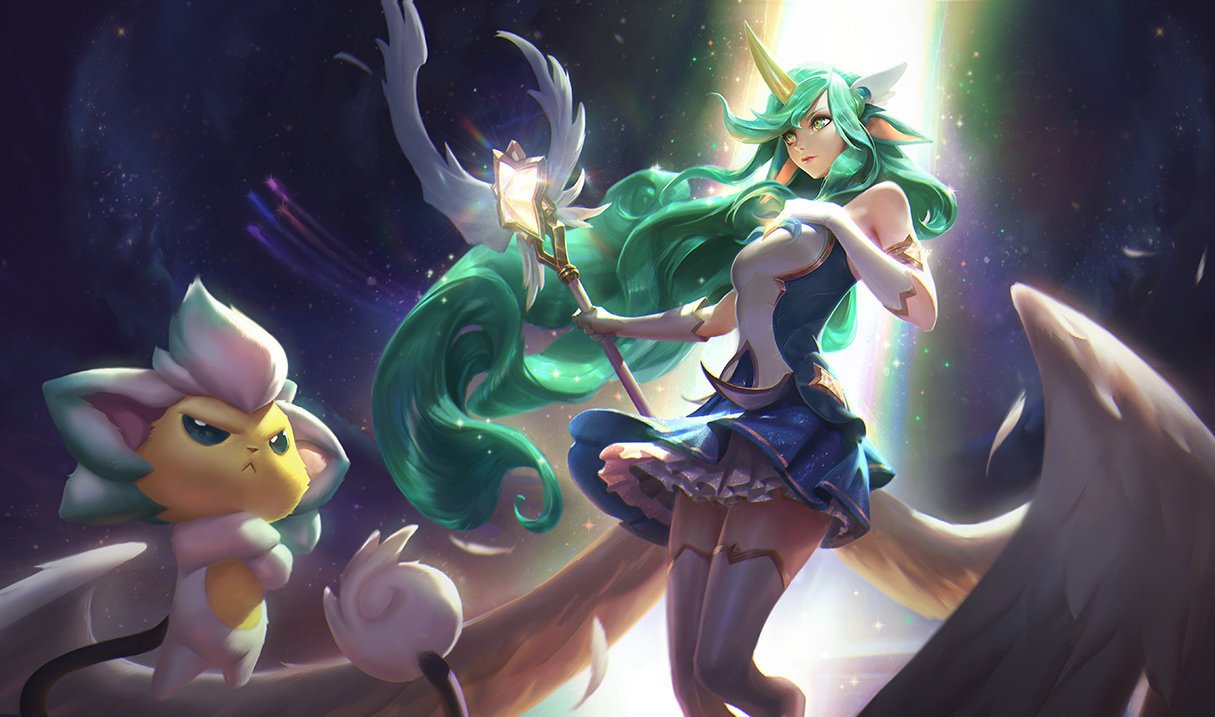 Soraka è un Supporto che senza il suo AD Carry fa veramente poco, quindi se usate Soraka cercate sempre di stare con un Alleato.
Le Abilità di Soraka:
Passiva: quando gli Alleati hanno poca salute Soraka aumenta la velocità di movimento se va verso quell'Alleato.
Q: Soraka fa cadere una stella creando un cerchio in cui rallenta e infligge Danni Magici gli Avversari e se li colpisce Soraka ottiene salute e velocità di movimento.
W: Soraka cura un Alleato perdendo un po della sua salute.
E: Soraka crea un cerchio in cui silenzia gli Avversari e se restano in quel cerchio vengono bloccati.
R: Soraka cura tutti gli Alleati, lei compresa.
Come potete immaginare Soraka non possiede una Combo precisa ma bensì Meccaniche di gioco: si cerca di usare la W per curare il proprio AD Carry e la Q per recuperare salute, mentre la E si cerca di usare se il jungler Avversario Ganka oppure se il vostro AD Carry ingaggia sugli Avversari silenziandoli. La R la si usa per aiutare Alleati in difficoltà anche in altri lane oppure se avete curato talmente tanto che non avete piu salute.
Build per Soraka:
Come oggetto iniziale ci sono due possibilità:
La prima è quella di acquistare il Vantaggio del Mago Ladro se riuscite a pokeare molto bene in quanto pokeando con la nostra Q otteniamo salute e velocità di movimento permettendoci di curare il nostro compagno… Esso si tramuterà poi in Zanna di ghiaccio (io di solito mi fermo a Zanna di ghiaccio senza farlo diventare Resti dell'osservatore per potenziare prima gli altri oggetti avendo comunque un buon numero di ward da piazzare per la visione) ovviamente quando lo si ha potenziato in Zanna di ghiaccio appena si hanno ha disposizione le 3 ward dell'oggetto, al posto di avere Totem guardiano (trinket) prenderemo la Lente dell'oracolo.
La seconda è quella di acquistare Moneta antica, se avete contro un campione che è difficile da pokeare questo oggetto vi aiuterà a guadagnare oro, ogni tanto le monete sono anche per guadagnare un po di mana e anche ad avere le ward necessarie per la visione del team… Esso verrà poi tramutato in Medaglione del nomade e a sua volta ancora in Resti dell'asceso (questo oggetto vi consiglio di non fermarsi al Medaglione del nomade per la salute che da e la rigenerazione salute
2. Stivali dell'acume di Ionia per avere una maggiore ricarica delle skill
3. Redenzione per avere un buon supporto nei teamfight
4.  Incensiere Ardente per ottenere molte più cure e velocità di movimento
5. Empio Graal di Athene… Con questo oggetto si accumulano cariche attaccando gli avversari che si perderanno poi curando un alleato. Queste cariche aumentano le cure delle nostre abilità.
6. Armatura di Warmog per avere una buona rigenerazione della nostra salute riuscendo a essere sempre full vita e a curare sempre i nostri alleati.

Ordine di potenziamento delle skill:
Q
W
E
dopo i primi 3 livelli si potenzierà fino al massimo la W per avere maggiori cure poi la Q e per finire la E
la R ovviamente sempre quando si può potenziare
Le Rune per Soraka sono queste:
Soraka va abbinata con Champ. che fanno tanto Danno ma subiscono molto come Draven per fare Combo stupende, oppure come Caitlyn che piazzando le trappole e bloccando gli Avversari formerete fantastiche Combo.
La guida che vedete in questo link è impostata in base alla mia esperienza di gioco…
Buon Game Evocatori!
Credits to Sherily.